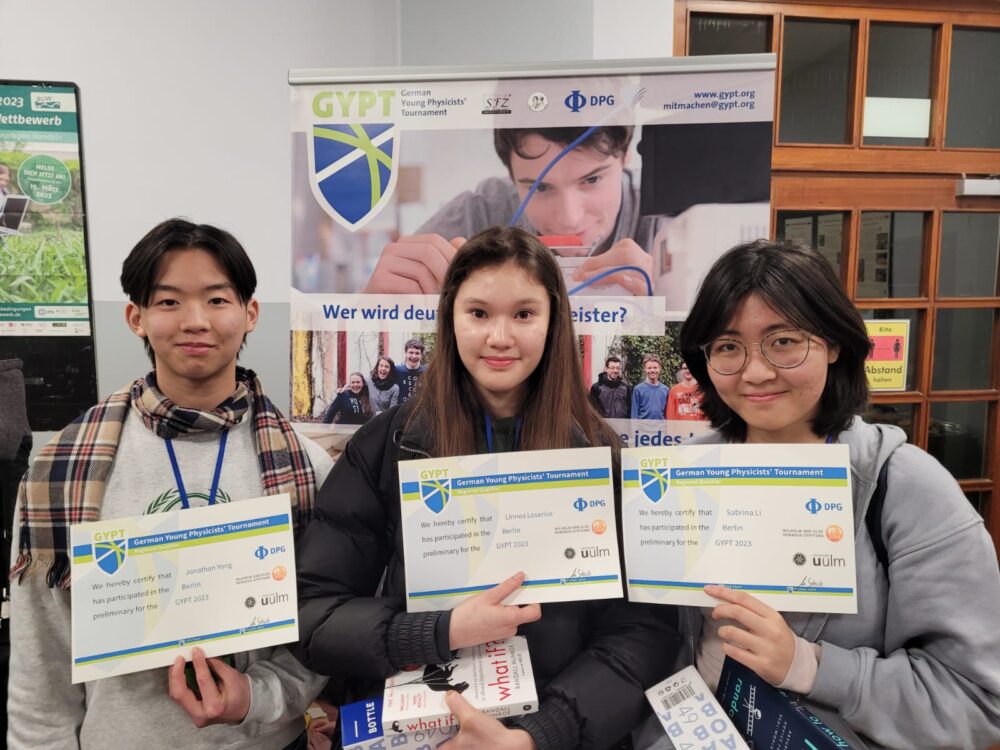 On February 11, 2023, Malmö Borgarskola participated with a team in the BeYPT (the Berlin Young Physicist Tournament) and came 2nd place and thus received a silver medal. BeYPT is Berlin's regional selection tournament for Germany's national IYPT tournament and has a format very similar to a real IYPT. The team consisted of Jonathan Yong, Linnéa Loserius and Sabrina Li, all students at Malmö Borgarskola's IB program DP1. Sam Edgecombe was the accompanying teacher.
During the tournament, where 28 students presented their solution to one of the current (2023) IYPT problems, each member got to present their problem for 12 minutes and also lead the opposition of another student's problem – also for 12 minutes – then answer questions from a jury.
The tournament was hosted by Herder Gymnasium, which has a mathematics and physics profile and with which Malmö Borgarskola has had a long-standing collaboration (It was actually through Malmö Borgarskola that Herder Gymnasium heard about IYPT in 2011). The day before the tournament, the students got to participate in a grade 12 physics lesson, then they visited the "Deutsches Technikmuseum" and the "Science Center Spectrum".
The trip was made possible thanks to Erasmus+ money administered by Malmö Borgarskola.
We would like to take this opportunity to thank everyone who made this trip possible, especially our German guests in Berlin; the teachers Dr. Mr. Ebert, Mrs Jeschke and the host students Antonia Macha, Jolanda Fehlinger and Rasmus Stegelmann.
On behalf of the team,
Sam Edgecombe